Ukrainian athletes 'should not compete in Olympic qualifiers alongside Russians', says minister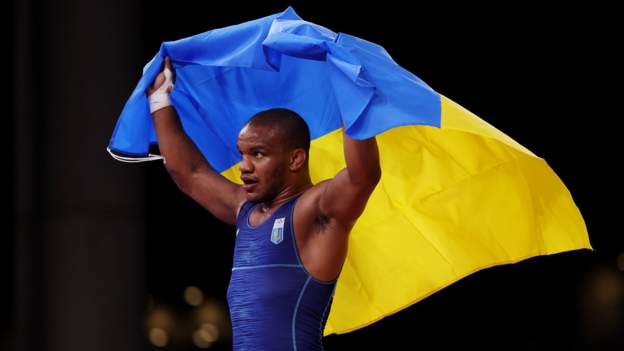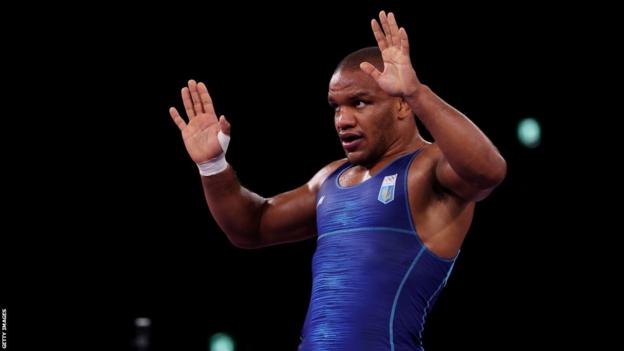 Ukrainian athletes should not be allowed to compete in qualifying events for the 2024 Paris Olympics if Russians are taking part, says government minister Oleh Nemchinov.
The decision was made after a proposal by sports minister Vadym Guttsait.
Participation could see federations sanctioned and lose "national status".
"At a meeting of the government, a protocol decision was made on the proposal of colleague Guttsait that we take part in qualifying competitions only where there are no Russians," Nemchinov said.
"Accordingly, participation outside these criteria may be grounds for depriving federations of their national status."
Two-time Olympian in the skeleton Vladyslav Heraskevych told BBC Sport he believes the ban extends to all events where Russian athletes are competing and not just Olympics qualifiers.
"Sadly we did not get this information earlier. We also found out from national TV," Heraskevych said.
"It will be really interesting to look into the details because we don't know if it is only for qualifying competitions or all competitions. As I understand from the statement it is about all competitions where Russians can compete. I would like to see more details."
Heraskevych said the decision "makes no sense for Ukraine".
"I am personally not supporting it at all," he said. "It is a boycott and a big collision.
"We are just giving this international stage to Russian athletes and we are giving them an opportunity to push their narrative into competitions and an opportunity to make relationships better with the whole world and show a picture of them being united with the world.
"We are getting sanctions from ourselves. I didn't appreciate the time when they announced it and how they did it publicly. Now is a good time for basic and constructive dialogue.
"It should be a decision for each athlete. You shouldn't be forced."
Guttsait is president of Ukraine's Olympic committee.
The IOC said any boycott would "only hurt the Ukrainian athlete community, and in no way impact the war that the world wants to stop".
It added: "The IOC has always maintained that it is not up to governments to decide which athletes can participate in which international competitions.
"If implemented, such a decision would also go against the position of a number of Ukrainian athletes and other members of the Ukrainian Olympic community."
The IOC called on federations to exclude athletes from Russia and key ally Belarus following Russia's invasion in February 2022.
Their new recommendation only extends to individual athletes, not teams, and it is yet to make a decision on whether Russians and Belarusians can compete at the Paris 2024 Olympics.
Ukraine has threatened to boycott the Paris Games if a ban on Russian and Belarusian athletes is not upheld.
However, the IOC has said it will "explore a pathway" to allow athletes from those nations to participate at the Games.
IOC president Thomas Bach claimed on Tuesday the inclusion of Russian and Belarusians athletes in international competition has already been shown to work, but that has been disputed by several athletes opposed to their readmission.
Bach identified Ukrainian tennis player Marta Kostyuk's win against Russian Varvara Gracheva in the ATX Open final this month, in which the Ukrainian refused to shake her opponent's hand after winning her first WTA title, as an example.
"We have a ranking system in our sport. If I don't participate I will lose my ranking and my career will be over," said Kostyuk, who also refused to shake the hand of Belarusian Victoria Azarenka at the US Open in September.
"A lot has been said and I wanted to say from myself, we have not been doing it publicly, but for the last year we have been fighting to exclude Russians and Belarusians from our sport.
"Unfortunately we are not independent players. We are working for the WTA and ATP, and we do not have a lot of power to make changes."
Fellow tennis player Lesia Tsurenko said facing Russians is an "ethical conflict".
"It affected me so that I had kind of panic attacks," Tsurenko said.
Heraskevych told BBC Sport that the decision "showed the true colours" of the IOC, adding: "They should think about Ukrainian athletes first and then think about Russian and Belarusian athletes who are acting against war.
"The IOC tried to rush this decision and sell it as something good."
Nemchinov added: "I want to tell our fellow athletes who are worried that due to the IOC measures and the admission of Russians or Belarusians to competitions, and accordingly Ukrainians will not be able to participate, that their careers will be broken.
"But your life and that of your children will remain."
The United Kingdom is among 36 countries to have pledged support for an ongoing ban.