Thomas Bach: Government criticism over return of Russian athletes 'deplorable', says IOC president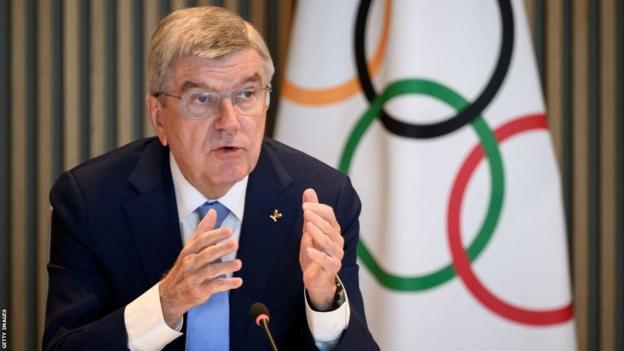 International Olympic Committee (IOC) president Thomas Bach says criticism by some governments over the return of Russian and Belarusian athletes to international sport is "deplorable".
That is despite more than 30 countries, including the United Kingdom, pledging to support an ongoing ban.
Bach said such interventions would mean the "end of world sport as we know it".
"It is deplorable to see that some governments do not want to respect the majority within the Olympic movement and all stakeholders, nor the autonomy of sport," added Bach.
"It is deplorable that these governments do not address the question of double standards. We have not seen a single comment on their attitude on the participation of athletes from countries of the other 70 wars and armed conflict around the world."
Bach's comments came a day after a host of international athletes criticised the IOC president's claim that Russians and Belarusians competing as neutrals in their sport "works".
Ukrainian tennis player Marta Kostyuk said she and others have been fighting to exclude those athletes from their sport, while compatriot Lesia Tsurenko said playing against Russians is "an ethical conflict".
The Danish Fencing Federation cancelled an international fencing event in Copenhagen on Thursday after the sport's governing body permitted the return of Russian and Belarusian athletes.
The IOC's recommendation for neutral participation only extends to individual athletes, not teams.
A decision on whether Russians and Belarusians can compete at the Paris 2024 Olympics will be taken at a later date.
"Government interventions have strengthened the unity of the Olympic movement," said Bach.
"It cannot be up to the governments to decide which athletes can participate in which competition.
"This would be the end of world sport as we know it today."
Ukraine has threatened to boycott the Paris Games if a ban is not upheld, with sports minister Vadym Guttsait accusing the IOC of "double standards".
The IOC called on sporting federations to ban athletes from Russia and its ally Belarus, following the invasion of Ukraine in February 2022.