Plan to redevelop Gabba for Brisbane Olympics to cost $2.7b and a primary school, sparking outcry | Brisbane Olympic Games 2032
Annastacia Palaszczuk says a $2.7bn plan to knock down and rebuild Brisbane's Gabba stadium will "anchor a major urban renewal project" that will see thousands of new homes built and deliver a more connected and livable city.
But political opponents, community groups and prominent architects say the project's blown out price tag and the loss of a primary school mean the Queensland government should look to alternative plans.
On Friday the premier and the prime minister, Anthony Albanese, announced $7b in funding for a bevy of new and upgraded stadiums, including the new $2.5b Brisbane Arena, which will host a drop-in swimming pool for the 2032 Olympic Games and afterwards be converted into a live music venue.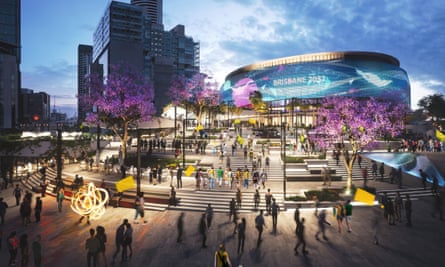 Albanese described the infrastructure splash as a "nation building".
"This will consolidate this great city as a global city, as a global powerhouse, but it benefits not just Brisbane," the prime minister said.
"This will make an enormous difference to our economy, to our lifestyle, to how Australia is perceived, as well, to the world."
But absent from the federal government's near $3.5b contribution was any funding towards the Gabba renewal project. The federal government instead decided to entirely fund the Brisbane Arena build, and jointly fund upgrades to nine existing venues and construct five smaller venues.
Woolloongabba resident David Baggs, who was an architect and sustainability consultant to the Sydney 2000 Games who is a life fellow at the Australian Institute of Architects, said the decision not to back the Gabba project seemed "a very loud statement" from the federal government that it didn't want to get involved in funding "a very controversial decision".
The Gabba rebuild, initially flagged as costing $1b, involves the closure of the heritage-listed East Brisbane state school – which the government says may be relocated – and will only see the capacity of Queensland's premier cricket venue and home of the Brisbane Lions AFL club increase by about 8,000 seats.
"For the feds to not look at funding it, they're going: 'whatever you do here, Queensland Labor, you're on your own, we don't want any part of that hornets' nest'," Baggs said.
The state government argues that the Gabba lacks disability access, adequate women's facilities and is in such a state of disrepair internally that it is jeopardising its ability to host future sporting events, such as test cricket.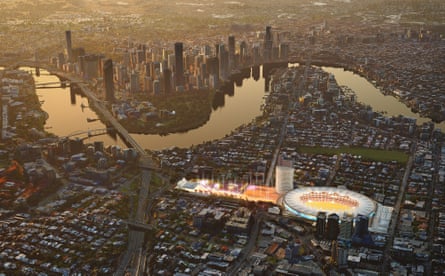 Palaszczuk said it was "logical" that the state government wants to own the Gabba project because it links with other projects, including the cross river rail, Brisbane metro and a new bridge to the city. She said it will also involve opening up space for thousands of new homes, including social and affordable housing.
But the Greens, whose MPs represent the area at both state and federal levels, slammed the Gabba rebuild as "deeply unpopular" among their constituents.
"With the federal government washing its hands of this project the state government now has to decide whether they're really willing to go ahead with a project that will cost a state school, a local park and will severely impact housing affordability in the neighbourhood," state MP Amy MacMahon said.
"$2.7bn is an obscene waste of public money."
Given that the International Olympic Committee requires a 50,000 capacity stadium of a different shape to the Gabba in its current state, architects like Baggs and a former president of the Queensland Institute of Architects, Dr Michael Lavery, have been arguing instead for a demountable stadium to be built immediately opposite the Gabba atop the cross river rail site.
The components of such a stadium could later be reused to construct school facilities, public housing and suburban sporting sites across the city, they argue.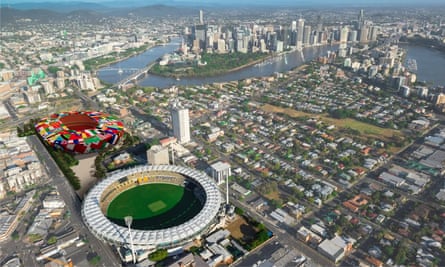 Lavery said a similar model was used in Rio 2016, at which a temporary handball arena was designed to reuse the modular structures in order to build four schools.
"One of the things that public money should do is solve the problems of the city," he said. "And it needs to value add across a number of areas. If all we're doing is building a bigger sports stadium … then I think we've let the public down."
Palaszczuk said the 17,000 seat new Brisbane Arena would ideally be built across the Roma St cross river rail and fill a hole left in the city's infrastructure by the demolition of Festival Hall in 2003.