Meet the young stars of UK breakdancing aiming for Olympic glory at Paris 2024 | Olympic Games
In two cavernous film studios in Acton, west London, Nike is shooting one of its tent-pole summer advertising campaigns. Everything about the production is outsize: the white-walled main stage is populated by around 200 extras, young and lithe, dressed in cropped sweatshirts and joggers, wearing Air Force 1 and Dunk Low sneakers. Costume designers and makeup artists swarm around, adjusting this, refreshing that, while the same few seconds of a dance music track plays on a loop through booming speakers. Meanwhile, a camera on a dolly sweeps through the crowd to reveal the two stars of the show.
You would expect the pair to be athletes, household names probably. But it's not quite that straightforward. Let's start with the "athlete" part: Karam Singh and India Sardjoe are breakers, or breakdancers if you want to show your age, better-known as 25-year-old B-boy Kid Karam and B-girl India, 16. Sardjoe, who represents the Netherlands, is the reigning world and European champion. Singh is the first breaker to earn a place on Team GB and is currently ranked No 6 in the world. But even they struggle to put a label on what they do. "It's very physically demanding," says Singh, during his lunch break on the shoot. "A guy called Menno from Holland calls us 'artletes'. But, for me, it's just a mix of everything."
As for the household name bit, not yet, but Nike is clearly betting that could change. In December 2020, it was confirmed that breaking would be included in the 2024 Paris Olympics as a medal sport. Next summer, the best 16 B-boys and 16 B-girls from around the world will face off in solo battles soundtracked by a live DJ on the Place de la Concorde in men's and women's events. Like the debut of skateboarding at the Tokyo Games in 2021, there is a hope that breaking will bring the jolt of a new audience. Also, it will introduce the world to some charismatic, more offbeat performers, much as it did with Sky Brown, who won bronze for Great Britain in park skateboarding and, aged 13, became the UK's youngest-ever Olympian.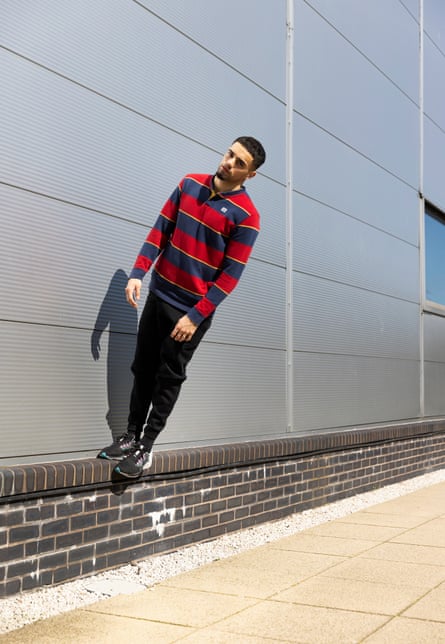 To describe the Olympic announcement as life-changing would be accurate, certainly for Singh, who is bright and bouncy, with lively eyes and close-cropped hair. Until recently, he fitted his training around shifts at the Firstsource call centre in Derby, handling customer inquiries for Sky. "It's quite funny because there were times where I'm working at Sky on the telephones, selling Sky, and I'd be on Sky Sports News and people would see it," he says. "So life has changed in that sense, and that came around because of things like the Olympics."
Being sponsored by Nike – becoming the first male breaker the company has recruited to its athlete programme – is only part of the "surreal" journey. Later this year, Singh will play the lead in a new feature-length drama, Breaking Point, about two grief-stricken brothers (alongside his childhood friend Kid Kelvin) who go head-to-head to compete in the World Championships. The film is directed by Max Giwa and Dania Pasquini, whose surprise hit StreetDance 3D was the highest-grossing independent British production of 2010. "As a breaker, we've never really had these opportunities before," says Singh. "So if you get a gig like this [the Nike campaign], it's amazing, it's the highlight of your life. And I can't say I thought I would be doing this, I can't say I thought I'd be in the movie. All of these things just happened. It's blessing after blessing."
Not everything has changed. though. Singh still lives at home in Normanton, a suburb of Derby, with his father, brother and sister. He grew up in the city and it's where he started breaking aged seven, after seeing a local crew, Trinity Warriors, performing at a funfair. Singh mostly trains in his garage, doing an hour of stretching every weekday and body-weight exercises – pull-ups, press-ups, sit-ups – to keep him light, strong and explosive. His connection to Derby remains strong: he has a cast-iron star on the city's Walk of Fame, along with Brian Clough and Lara Croft, who was "born" at the local Core Design video-game studio. "So that's there in concrete," he says, smiling. "As long as Derby's there, I'm there, sort of thing."
Singh seems to be peaking at the right time. In November, he achieved the best result of his career so far, winning the silver medal at the European Championships in Manchester. This summer, his sights are set on the European Games in Kraków, Poland; if he wins there next month, he will automatically qualify for the Olympics. But, more emotionally, the competition will mark the first time that Singh has competed in the Team GB uniform. Breaking is such a new sport, they haven't even worked out what the high-performance kit should look like. "They're trying to find the perfect clothing," says Singh, "what's comfortable for us, what makes us feel free, what makes us feel fresh, and [helps us to] dance well."
There's a knock on the door of Singh's dressing room and he is called back to set. "Before it was like, 'Is breaking a dance? Is it a sport? Is it an extreme dance? An extreme sport?'" he says. "It was really confusing. But now the Olympics has given it definition, everybody is taking it more seriously."
He laughs: "We know our worth now and they know our worth."
---
Breaking has its origins in New York in the early 1970s. "It is the dance of hip-hop culture," says Oliver "Hooch" Whittle, a DJ who founded the UK's longest-running breaking event, the UK B-Boy Championships, in 1996. "Breaking was there at the beginnings of hip hop when it was being formed and any breaker that is really special will convey that sense of hip-hop within them."
Roxy Milliner, who competes as B-girl Roxy, agrees. Growing up in south London, she was a talented trampolinist, but after a serious back injury, she turned to breaking aged 16. Now 33, she's been one of the world's top female breakers for more than a decade. Charismatic and warm, with an exuberant head of gold ringlets, Milliner is known for her rock-solid freezes and has the Guinness world record for headspins: 71 in a minute.
"People are attracted to breaking now because it is a sport, but it's also an art form," she says, when we meet in Streatham Park. "And the art is, if anything, more important than the athletic side of it. If you're only training in the gym and only training to do the Olympics, then you're ignoring the reason that breaking is popular in the first place, which is the culture of it. It's different from gymnastics. There's the music and the way they dress. There's aggression and there's character and there's individuality and there's originality… The physical side is obviously part of it. And the better you are as an athlete, the better you're going to be as a breaker. But if you're only athletic, then you're missing the point."
As someone who grew up in the pre-sport days of breaking, Milliner admits that adapting to modern training regimens is not always easy. "Five years ago, barely anybody went to the gym," she says, with a smile. "You just breaked and that's how you got strong, that's how you got your stamina. You would go to jams, which were at night, and then you'd go to parties and you'd break… That's unheard of now."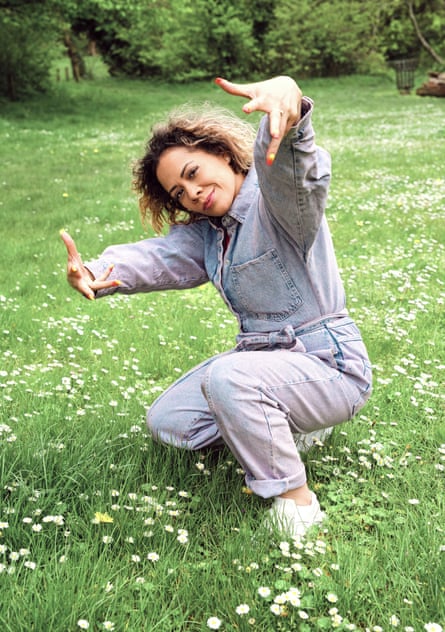 Breaking had its first global boom in the 1980s, featuring in the video for Buffalo Gals by Malcolm McLaren and the World's Famous Supreme Team in 1982. The following year, Rock Steady Crew, the New York hip-hop and breaking group who featured in that video, went to No 6 in the UK charts with their international hit (Hey You) The Rock Steady Crew. "Oh my God, it was everywhere back then," recalls Whittle, who is now the president of the governing body Breaking GB. "Breaking was on adverts for, I don't know, Weetabix or something. Every kid that turned on the TV and saw the Buffalo Gals video was immediately captivated by it: 'Who are those kids? What are they doing? They must be the coolest kids in the world!' And they were all our age."
The boom, like the one around the same time for skateboarding, didn't last: "As with most crazes, it crashed out of the media gaze," says Whittle. And, over time, the links with hip-hop and rap music have weakened. But breaking never disappeared and its best practitioners – now lumped into the amalgam "streetdance" – would find decent work as background artists in commercials and music videos. One of the rare crossover stars was the Algerian-French B-girl Sofia Boutella. She was a competition breaker before dancing for Madonna and Rihanna, and has latterly had success as an actor, appearing alongside Tom Cruise in The Mummy (2017) and in the 2022 BBC drama SAS: Rogue Heroes.
Breaking has its own movies, of course, such as the StreetDance films, which Boutella also starred in, and 2004's You Got Served. This latter film – which has not always been kindly reviewed – is what introduced a young Emma Houston to breaking. Houston, now 31, who competes as Shortbread, and uses they and them pronouns, is now Britain's highest-ranked breaker in the B-girl category. At world No 36, Houston currently wouldn't qualify for the Olympics, but they are optimistic that they can force their way into the Top 16 in time for Paris.
Houston grew up in Stirling, Scotland ("Shortbread" is a nod to that) and was a junior footballer with Falkirk Ladies FC. You Got Served derailed that, and led them on a path to study contemporary dance first in Dundee and then at the Royal Academy of Dance in London: "Yeah, watching that film was the turning point for my life basically," they say. Making a career of breaking was impossible back then – the 2010s – so instead Houston went into theatre, working with the hip-hop dance company Boy Blue on its biennial Barbican Centre production and on Message in a Bottle, a 2020 Sadler's Wells dance-theatre show set to the songs of Sting.
But the Olympic announcement changed Houston's plans again. When it came, at the end of 2020, they were, mentally and physically, in a desperate place: early in the pandemic, Houston had severe Covid, followed by months of debilitating exhaustion. "I couldn't dance at all for a year," they say. "Couldn't do anything. So what set me on the Olympic path was being ill and not able to move or do anything and making that decision from that place. I wrote in my diary: 'I really want to see how far I can go with this.' And it has really helped with my rehabilitation. That, two years later, I'm part of the UK team is a testament to that determination, I guess."
Houston describes the experience as "a rebirth" and they seem sanguine about what happens next and whether they can crack the Top 16 B-girls. "It's crazy when you think about it: do you know how many incredible dancers around the world there are?" they say. Still, Houston feels they have nothing to lose. "I feel very grateful to be a part of the team and part of this moment in history. My aims are: I'm committed, I'm going to show up, I'm going to do my best."
Roxy Milliner, whose ranking has slipped to No 38 in the world, has had a similarly suboptimal – "chaos" is the word she uses – preparation for the Olympics. Shortly before the announcement of breaking's inclusion in 2020, she gave birth to her son, Leo. The pregnancy was a difficult one: she tore a pelvic floor muscle and required use of a wheelchair for much of the nine months. She also had to care for her mother, who has heart and kidney issues. Plus, Covid made everything harder. "I was convinced I wasn't going to dance again at all," she recalls. "I was like, 'I'm definitely done now.' So I shut myself off from breaking. My head was not in dance at all. It was just like, 'Keep my child alive. Keep my mum alive'… like, mental."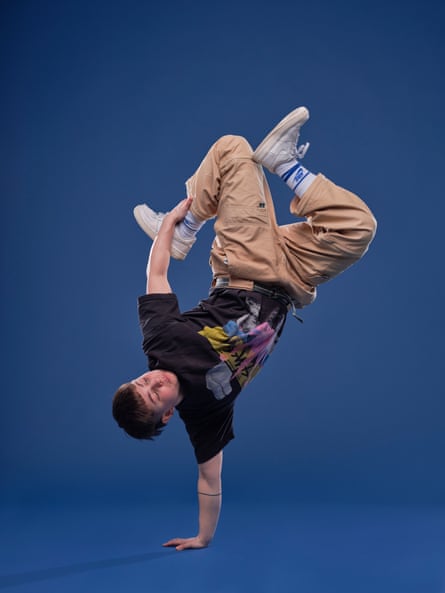 Leo is two now, but because there is so little money in breaking – most of the funding Breaking GB receives goes towards sending athletes to competitions abroad – Milliner has found it hard to carve out concentrated training blocks. But still, she has performed well in national competitions since her return and believes, if she can continue to make progress in this summer's events, she has an outside shot of making it to Paris. "I always used to be so down on myself, but I'm actually proud of what I've done," she says. "And I'm proud of my body now for how much I've got back. I'm maybe at 70% of the physical ability I had before. And to do that without training… it's mind-blowing that the body that can create a person, shove it out, deal with all this crap and then be OK again!"
All the British breakers believe that, beyond the 2024 Olympics, the greatest impact will be felt by a new generation who will want to emulate what they've seen there. There's also the hope that the sport will become more appealing to girls and young women. When Milliner started breaking in the mid-2000s, she estimates "it was, like, 99% men" who did it. And, when she started getting attention, she had to put up with "a lot of hate and misogyny". But, she says, the scene has become much more inclusive. "Those doors have been opened now. There are more girls coming in and being girly or being whoever they are. And if you see people who are relatable, then you're like, 'Oh, maybe I could do that.' So it's definitely easier than it was."
There's no word yet whether breaking will become established in the Olympics, but there is optimism that, with the 2028 Games to be held in Los Angeles, it will be more than a one-time deal. "I hope it goes on to the next and the next," says Singh, on the set of the Nike commercial. "With one era coming to an end, like Usain Bolt not being in the Olympics or Mo Farah: they were iconic figures who set the records. Breaking gives it a little bit of a fresh wave and that's a good thing."
Has Singh got a signature celebration ready, in case he wins gold in Paris? "I'm loving the Marcus Rashford focus point right now," he replies, referring to the Manchester United striker's pose where he stands still and raises his finger to his temple, sometimes with his eyes closed. "But I'll have to get there first."