IMOCO TAKE BACK CLUB WORLD CHAMPIONSHIP CROWN, AS KAZAKHSTAN'S KUANYSH FINISH SIXTH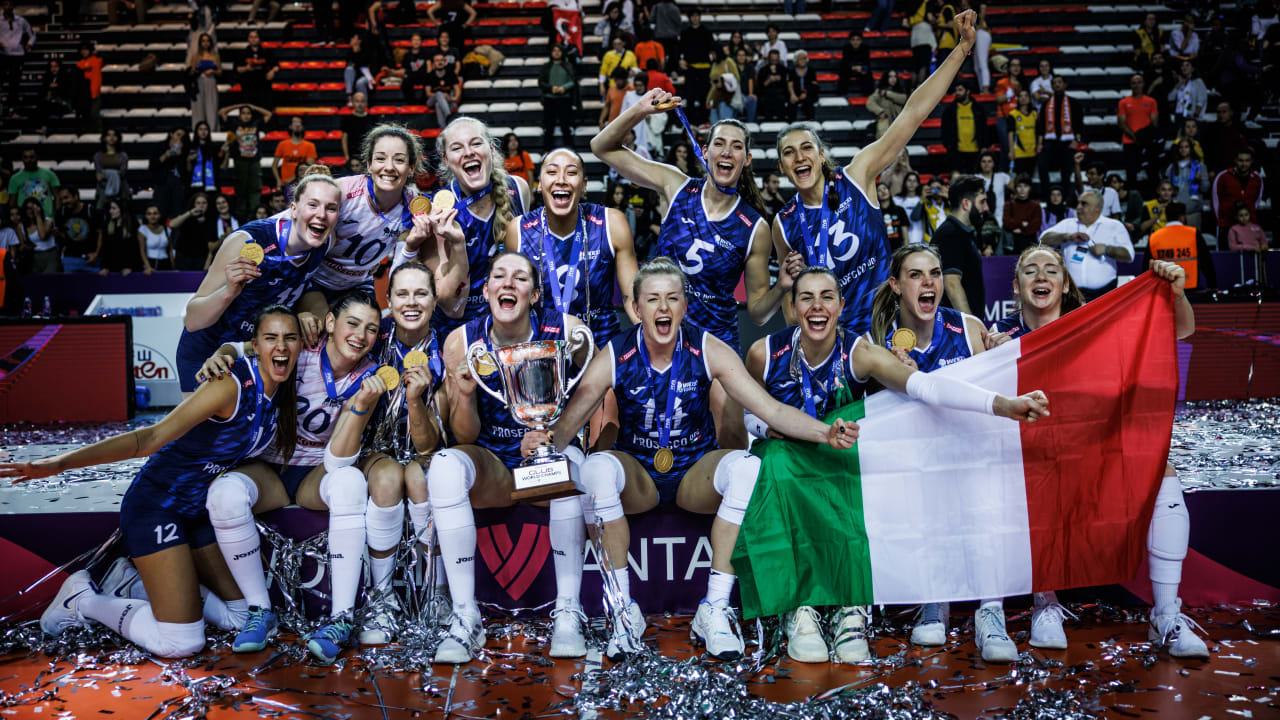 VakifBank and Eczacibasi complete the podium in Antalya
Imoco triumph as 2022 club world champions
Prosecco Doc Imoco Conegliano claimed the Volleyball Women's Club World Championship 2022 title, taking it back from VakifBank Spor Kulubu with a 3-1 (25-18, 23-25, 25-21, 25-21) victory in Sunday's final in Antalya. It was the Italian club's second gold in the competition, after winning the 2019 edition. Last year, they settled for silver after losing the final to VakifBank in a five-set battle.
The 2022 silver was the Turkish team's eighth piece of hardware in the history of the Club World Championships as they extended their tradition of winning a medal every time they participate. Still the most decorated club in the competition, VakifBank's collection now features four gold, two silver and two bronze medals.
Earlier in the day, tournament hosts Eczacibasi Dynavit Istanbul snatched the bronze medals after a 3-1 (25-22, 23-25, 25-10, 25-21) victory over Gerdau Minas of Belo Horizonte, Brazil in the third place match. It was the Tigers' fifth podium in the history of the competition, after they won the title in 2015 and 2016, bronze in 2018 and silver in 2019.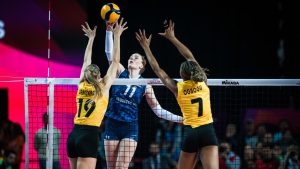 Isabelle Haak tips the ball over the block of Nika Daalderop and Chiaka Ogbogu
The gold medal match was much anticipated by the fans not only because it was a remake of last year's final, but also because it featured the first head-to-head encounter between opposites Isabelle Haak of Sweden and Paola Egonu of Italy, after they switched clubs between seasons. Haak inspired Imoco's victory with a remarkable tally of 34 points, including two blocks. Egonu finished with "only" 27 points, including two blocks and two aces.
VakifBank recovered from Imoco's 3-0 start to level the score, but the Italians broke away again with five points in a row on Haak's serving turn towards an 11-6 lead. Despite Egonu's nine points in the first set, VakifBank did not manage to catch up again. Another three in a row pushed the Panthers to a 24-17 set point and American outside hitter Kathryn Plummer crowned her solid performance in the set with a swing for 25-18.
A five-point run, including three back-to-back kill blocks, pushed VakifBank forward to a 10-6 lead in the second set. That was wiped out at 11-11. Shortly after, Imoco delivered four consecutive points to run off with a 17-13 advantage and it was VakifBank's turn to play catch-up. They reacted immediately with a five-point series highlighted by three back-to-back kills from Brazilian outside hitter and captain Gabriela Guimaraes for 18-17 to prompt a tight ending. American substitute outside Kara Bajema finished the set at 25-22 VakifBank's way with an off-the-block shot.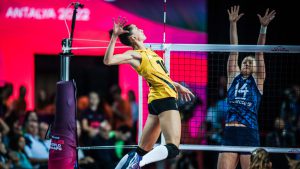 Gabi Guimaraes spikes
The Panthers stormed into the third set on a 4-1 run and never lost hold of the lead through the rest of the set. Powered by the great performances of Haak and Dutch middle blocker Robin De Kruijf at the net, the Italian team were able to fend off all efforts from Egonu and Gabi to inspire a comeback. Finally, a monster block by US outside Kelsey Robinson put an end to the set at 25-21 Imoco's way.
Great teamwork helped Imoco build up a three-point lead early into the fourth set before a sizzling ace by Egonu for 7-6 served as a momentum changer for VakifBank to pull themselves forward to an 8-7 edge. But it was short-lived. Twice more, the Turkish side were able to wipe out three-point deficits, but never took the lead again. After 14-14, it was all about Imoco. There was no stopping Haak as she fittingly hammered the match winner at 25-21.
In the match for third place, Serbian opposite and captain Tijana Boskovic was Eczacibasi's true leader and contributed a fantastic 32-point match high to the victory. Her tally included three aces, two kill blocks and 27 points produced in attack at a 63% success rate. Eczacibasi's middle blockers Laura Heyrman of Belgium and Sinead Jack of Trinidad and Tobago also reached double digits, with 11 and 10 points, respectively. Dominican outside hitter Yonkaira Pena was Gerdau Minas's most prolific player with 16 points, followed by middle blocker and captain Caroline Gattaz and opposite Kisy Nascimento with 12 points each, and outside Priscila Daroit with 11.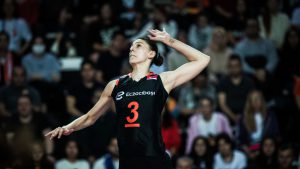 Boskovic about to nail one of her 32 points in the bronze medal match
The first set of the match offered a nip-and-tuck battle with the lead switching hands several times, from two points Eczacibasi's way to three points in favour of Minas, until a 20-20 level. Two successful attacks by Boskovic and a kill by outside hitter Hande Baladin in between gave the home team a 23-20 lead before they cruised to a 25-22 win fixed by Boskovic with another swing for the last point.
Some great serving by setter Priscila Heldes, garnished with two aces, gave Minas a 5-3 edge in the second set. Boskovic kept the fire burning for Eczacibasi to push her team forward, but eventually the Brazilian team managed to recover from the five-point deficit they had at 18-13. They caught up at 21-21 on an ace by Pri Daroit and finished the set off with a three-point series, crowned by another Heldes ace for 25-23.
Eczacibasi Dynavit with the Club World Championship bronze medals
Set three was completely one-sided. Eczacibasi took immediate control and broke away with a wide lead. In the end, Russian outside Irina Voronkova spiked the last point in the home team's five-point sprint to a crushing 25-10 win.
Three points in a row put the Tigers at an 8-5 lead in the fourth set and they never looked back. The gap went as wide as eight points and it was only after 20-12 when Minas, with nothing to lose, made a final push to change the course of the game. However, all they managed to achieve was to get back to within three, before Boskovic crowned her fabulous performance by hammering the match winning point for 25-21.
FINAL STANDING
1. Prosecco DOC Imoco Conegliano (Italy)
2. VakifBank Spor Kulubu (Turkey)
3. Eczacibasi Dynavit Istanbul (Turkey)
4. Gerdau Minas (Brazil)
5. Dentil Praia Clube (Brazil)
6. Kuanysh Club (Kazakhstan)
INDIVIDUAL AWARDS
Best Setter: Joanna Wolosz (Prosecco Doc Imoco Conegliano)
Best Opposite: Isabelle Haak (Prosecco Doc Imoco Conegliano)
Best Outside Hitters: Kelsey Robinson (Prosecco Doc Imoco Conegliano) and Gabriela Guimaraes (VakifBank Spor Kulubu)
Best Middle Blockers: Chiaka Ogbogu (VakifBank Spor Kulubu) and Zehra Gunes (VakifBank Spor Kulubu)
Best Libero: Monica De Gennaro (Prosecco Doc Imoco Conegliano)
MVP: Isabelle Haak (Prosecco DOC Imoco Conegliano)
Related links of AVC
AVC Website: click www.asianvolleyball.net
AVC Facebook: click www.Facebook.com/AsianVolleyballConfederation
AVC Twitter: click: www.twitter.com/AsianVolleyball
AVC Instagram: click: https://www.instagram.com/avcvolley/?hl=en
AVC Youtube: click: Asian Volleyball Confederation
AVC WeChat: Asian Volleyball Confederation
The post IMOCO TAKE BACK CLUB WORLD CHAMPIONSHIP CROWN, AS KAZAKHSTAN'S KUANYSH FINISH SIXTH appeared first on Asian Volleyball Confederation.