Dick Fosbury, Olympic champion who changed high jump forever, dies aged 76 | US sports
The American Olympic champion Dick Fosbury, who revolutionised the high jump with a technique that became known as the Fosbury Flop, has died. He was 76.
His former agent, Ray Schulte, announced the news on Instagram on Monday.
He wrote: "It is with a very heavy heart I have to release the news that longtime friend and client Dick Fosbury passed away peacefully in his sleep early Sunday morning after a short bout with a recurrence of lymphoma."
Fosbury shot to fame in 1968, when he won high-jump gold in Mexico City after a final that lasted more than four hours.
His technique, honed in college competition in Oregon, involved jumping backwards and arching his back over the bar, thereby reversing and ripping up decades of high-jump orthodoxy. In the span of just five years, he had gone from struggling as a high-school athlete in his hometown, Medford, to winning worldwide fame.
In 2012, Fosbury told the Guardian he "had a horrible time dealing with all the attention" that followed his Olympic triumph.
"It was too much. I was a small-town kid who did something way beyond what I had ever expected to do. I liked the attention, but I wanted it to be over at a point. It didn't work that way."
He also said he became "mentally exhausted" because "there was too much attention. People put me on a pedestal and kept me there. I didn't want to be on a pedestal. I received my medal and I wanted to be back on the ground with everyone else."
Elsewhere, however, Fosbury said the gold "changed my life. It brought me gifts, not necessarily monetary. I have met presidents and kings, seen the world and shared my life with wonderful people."
Fosbury did not compete at the Olympics again but his technique swiftly came to dominate his sport.
In his 2012 Guardian interview, he said of the Fosbury Flop: "I guess it did look kind of weird at first but it felt so natural that, like all good ideas, you just wonder why no one had thought of it before me."
For the Guardian, Simon Burnton wrote: "A couple of people have claimed that they did, most notably the Canadian future world No1 Debbie Brill, who was developing the 'Brill Bend' at around the same time, and was videoed using the technique in 1966. 'I was quite shocked when I saw Fosbury jump the first time,' she said. 'I thought I was the only one doing it.'"
In 2009, in a Guardian piece published 41 years to the day since his gold-medal win, Fosbury said the Flop "got its name earlier in 1968 when a journalist asked what my technique was called, and I borrowed the terminology my hometown newspaper had used in a picture caption, which read: 'Fosbury flops over the bar'.
"It was alliterative, it was descriptive, and I liked the contradiction – a flop that could be a success."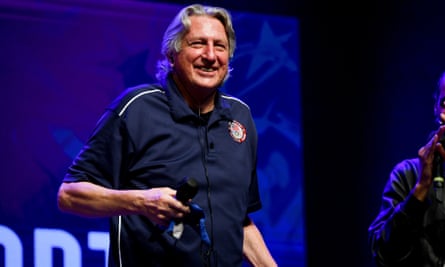 In his Instagram post on Monday, Schulte wrote: "The track and field legend is survived by his wife, Robin Tomasi, and son, Erich Fosbury, and stepdaughters Stephanie Thomas-Phipps … and Kristin Thompson."
Schulte said a celebration of Fosbury's life was being planned, and added: "Dick will be greatly missed by friends and fans from around the world. A true legend, and friend of all!"
The four-time-Olympic champion sprinter Michael Johnson was among others to pay tribute.
"The world legend is probably used too often," Johnson said. "Dick Fosbury was a true LEGEND! He changed an entire event for ever with a technique that looked crazy at the time but the result made it the standard."
Ato Boldon, the former Trinidadian sprinter, said: "Godspeed, Fos, from an eternally grateful sport."
USA Track & Field, the sport's US governing body, said: "Our sport lost a true legend and innovator today."
USATF also posted a video in which Fosbury discussed his work as a coach "across the country and across the world, from the very beginning, teaching coaches what the Fosbury Flop was all about, to … working with young high school athletes.
"… I encourage all athletes to keep an open mind to the possibility that you can inspire a young athlete to become their best, to find their own way in sport. And so thank you, and God bless."