CHINESE XUE AND XIA KEEP MOMENTUM GOING AT SAQUAREMA CHALLENGE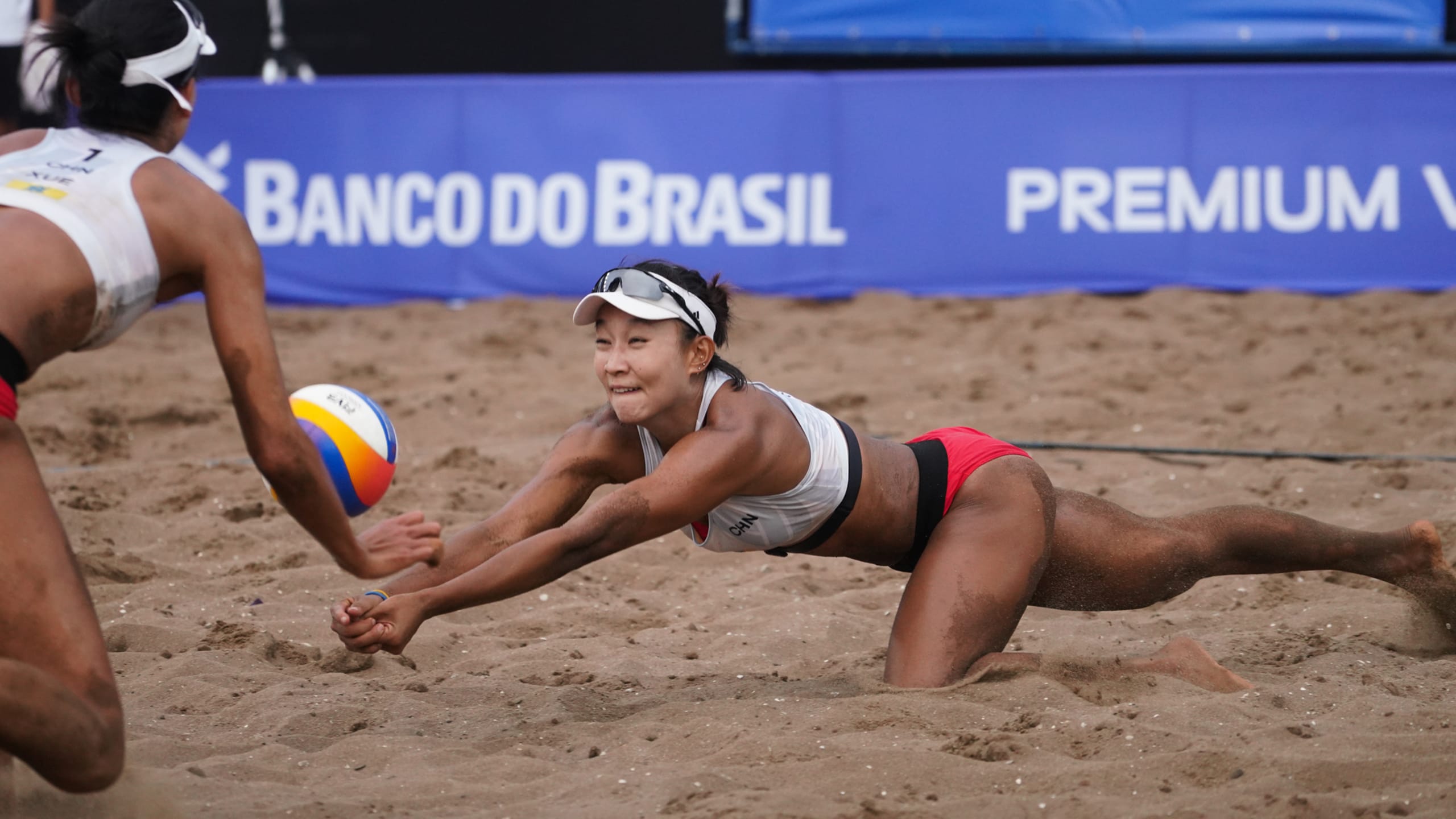 Five days after winning in Itapema, the Chinese top a difficult pool in Brazil
Xia makes a save during the pool final against Talita and Thamela
The 1,000-kilometer trip from Itapema to Saquarema didn't hurt the momentum of Chen Xue and Xinyi Xia as the Chinese started their campaign in the Volleyball World Beach Pro Tour Saquarema Challenge on the right foot.
The winners of last week's Itapema Challenge, Xue and Xia were among the six women's teams that finished at the top of their pools in the Brazilian event and will continue their chase for gold medals in Saquarema in the Round of 16 on Saturday – the quarterfinals will also be held on the second day of the main draw at the Campo de Aviação.
Watch the Beach Pro Tour Saquarema Challenge live or on demand on VBTV
Xue and Xia were drawn into one of the toughest groups in Saquarema, but navigated Pool B with extreme efficiency, overcoming Germans Laura Ludwig and Louisa Lippmann 2-1 (17-21, 21-14, 15-11) in their opening match and dominating the home team of Talita Antunes and Thamela Coradello in two sets (21-16, 21-15) to rank first.
"We've been only focusing on ourselves, to be honest," Xue told Volleyball World. "In every match we get to play, we're trying to fix the mistakes we had on the one before. I expect this week's tournament to be harder than the one in Itapema and we're ready for a lot of difficulties. I'm happy that we started it well, with two wins."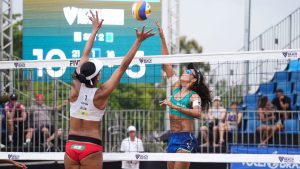 Xue and Talita battled for the 41st time in their careers in Saquarema
Although she had been away from international beach volleyball since the end of the Tokyo Olympics before her return last week in Itapema, the 34-year-old Xue saw some very familiar faces on the court on Friday as Ludwig, Talita and her are among the longest-active players in the Beach Pro Tour now, being the only three who competed at the Beijing 2008 Olympics to continue playing.
The 40-year-old Talita, in special, has been battling the Chinese star around the world for the most part of the last two decades, with the two playing each other 41 times since 2005. The Chinese won 23 of these duels, including the most important one, in the bronze medal match of the Beijing Games, when partner Zhang Xi and her topped Talita and Renata Ribeiro to make it to the podium at home.
"Talita and I have been playing each other for such a long time," the blocker added. "It's kind of funny that we know each other for so long that when we go up to the net to shake hands before or after a match, we both have big smiles on our faces, as if we were meeting an old friend."
Beach Pro Tour Saquarema Challenge – Match Schedule & Results
Hosts Brazil had three other teams playing in pool finals at the Campo de Aviação on Friday, but only of them, Tainá Bigi and Victoria Lopes, succeeded. The two were in the tie-breaker against Japanese Miki Ishii and Sayaka Mizoe when Ishii sustained an ankle injury and was forced to forfeit the match, leaving the Brazilians as the top team in Pool E.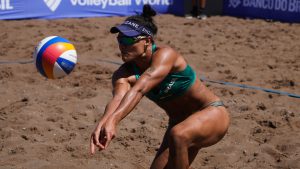 Tainá in action during the first match of the day in Saquarema
Taiana Lima and Hegeile 'Hege' Lima also had a three-setter (21-16, 17-21, 9-15) in their Pool C final, but ended up falling to Italians Marta Menegatti and Valentina Gottardi. The Pool A final had Americans Kelley Kolisnke and Hailey Harward overcoming Andressa Cavalcanti and Vitoria Rodrigues in straight sets (21-17, 21-18).
Finland's Niina Ahtiainen and Taru Lathi, who topped Spanish Maria Carro and Angela Lobato 2-0 (21-8, 21-19) in Pool D, and Swiss qualifiers Zoé Vergé-Dépré and Esmée Böbner, who overcame another team from Spain, formed by Liliana Fernández and Paula Soria also in two sets (23-21, 24-22) in Pool F, were the other two pool winners at the Saquarema Challenge.
https://twitter.com/BeachVBWorld/status/1646860857517789184?ref_src=twsrc%5Etfw%7Ctwcamp%5Etweetembed%7Ctwterm%5E1646860857517789184%7Ctwgr%5E57c4f46d6b73ba77cc28054ff1d6a46dee44fda6%7Ctwcon%5Es1_&ref_url=https%3A%2F%2Fen.volleyballworld.com%2Fbeachvolleyball%2Fcompetitions%2Fbeach-pro-tour%2F2023%2Fchallenge%2Fsaquarema-bra%2Fnews%2Fxue-and-xia-keep-momentum-going-at-saquarema-challenge
Saturday's match schedule is set to start for the women at 09:00 local time (12:00 UTC), with the Round of 16. The quarterfinals will be split into two blocks, with the first two duels beginning at 14:30 local time (17:30 UTC) and the last two matches starting two hours later.
QUICK LINKS
AVC Website: click www.asianvolleyball.net
AVC Facebook: click www.Facebook.com/AsianVolleyballConfederation
AVC Twitter: click: www.twitter.com/AsianVolleyball
AVC Instagram: click: https://www.instagram.com/avcvolley/?hl=en
AVC Youtube: click: Asian Volleyball Confederation
AVC WeChat: Asian Volleyball Confederation
The post CHINESE XUE AND XIA KEEP MOMENTUM GOING AT SAQUAREMA CHALLENGE appeared first on Asian Volleyball Confederation.